Basic soft skills are often overlooked, but they play an important role in the day to day operations IN EVERY CONCIERGE MEDICINE PRACTICE.
About this Event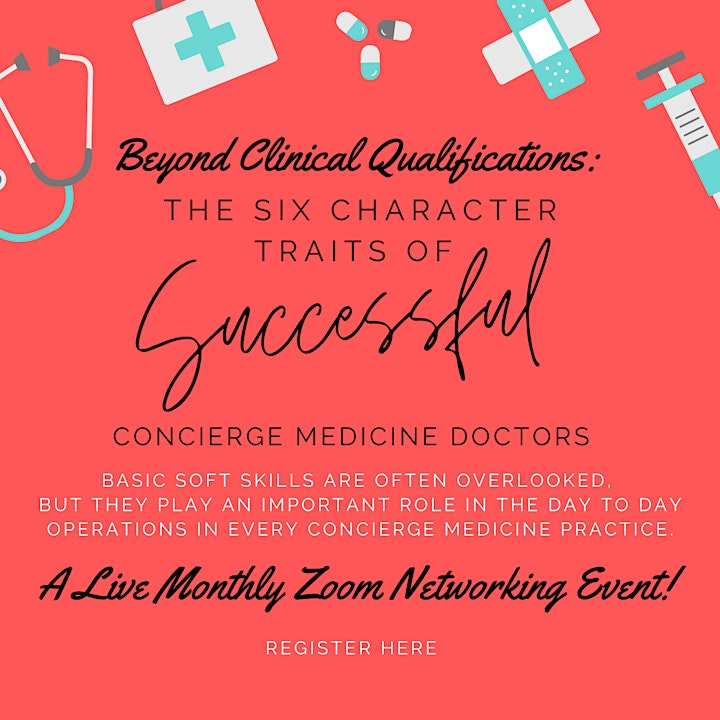 It Goes Beyond Clinical Qualifications
When it comes to the character traits, skills and business acumen needed in a concierge medicine practice, the first line item on the to-do list is usually placed squarely on the Physician's shoulders alone. That can be an impossible burden to carry. People often think it's the clinical qualifications that matter the most, right?
Well, you'd be surprised to learn that the data among prospective Patients subscribing to Concierge Medicine programs and searching the patient-centric solution in their lives tells us the degree matters … but not as much as you might think.
When: Wednesday, Feb. 10, 12-1pm EST
Why/Purpose: "Because a 'Patient who feels appreciated, will always do more than is expected.'"
Every single skill or character quality necessary to be successful in Concierge Medicine extends far beyond a Physician's clinical qualifications. Basic soft skills go beyond an individual's ability to cooperate with people at work or communicate with Patients clearly. Focusing on your basic soft skills can help improve your motivation, leadership skills, and conflict resolution skills. To help learn what the basic character traits, soft skills and qualities are to succeed in Concierge Medicine based on hundreds of Physician stories, interviews and industry observations, we've compiled a list of the six most important traits you should have in order to succeed in Concierge Medicine in the years to come.
Sure, they're subjective, intangible, personality-driven, behavioral, and situational. These traits and soft skills described under each quality are usually what separates a good Physician from a great one. You could call it bedside manner, but soft skills go well beyond patient care and the exam room.
Even if you weren't born with the business acumen and aptitude you wish you had, or you don't have a resume littered with letters behind your name, you can still take your concierge medicine practice and medical career to new people by working on the skills you can control.
RESOURCES MENTIONED
https://members.fordoctorsforum.org
www.ConciergeMedicineToday.org
https://www.DocPreneurPress.com